Down Payment Connect gives prospective homebuyers (and your existing clients) even more reasons to work with you.
If you're like most real estate agents, you know that the more leads you have, the more closings you have.
The challenge is that generating quality leads can be a hassle. Until now.
Our Down Payment Resource website connects prospective homebuyers with organizations that help them get the money they need for down payments.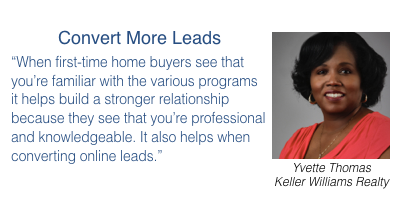 When you sign up for Down Payment Connect, you get your own customized online landing page so you can connect prospective homebuyers to the down payment help they need.
It's a great way to build stronger relationships between you and your prospective homebuyers.
Ready to learn more?
We answer six common questions:
1. How does Down Payment Connect work?
It's simple. We provide you a customized web page where your prospects or existing clients can see if they qualify for help with a down payment.
Just send that page to your existing clients and prospects as a way to strengthen your relationship with them and to provide extra value to them. You can also add your link anywhere you are online – your website, blog, enewsletters and social media sites.
2. Does Down Payment Connect help me generate new leads? Or does it help me provide value to my existing clients?
Both.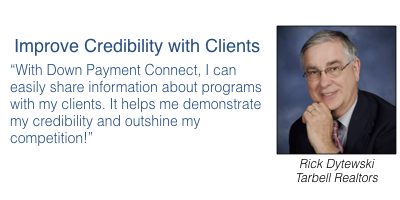 Prospective homebuyers who are looking for down payment help can be directed to your personalized Down Payment Connect web page. You can also send your existing clients there so that they can search for down payment help, too.
3. How do I get started?
It's easy to get started. Just fill out the form at the bottom of this page. You'll receive an email with a link and a login. The rest is simple – just customize your page and you're off to the races.
4. What happens after I sign up?
Share your customized Down Payment Connect web page with existing clients (via an email, newsletter, or other platform) and let them know that they may qualify for help with a down payment.
You can also share your link with prospective homebuyers via Facebook, LinkedIn, Twitter, email or other any other platform.
Down Payment Connect is like a magnet for leads – the more you let prospects know about the down payment programs available on your personalized web page, the more leads will be delivered right to you.
5. How much does it cost?
Not much. Down Payment Connect is available for a monthly subscription of just $19.95 per state.
6. Where can I learn more?
Still have questions? Contact us at Info@DownPaymentResource.com or watch the short video below.
---