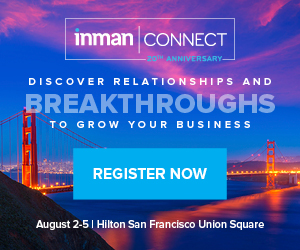 Inman Connect creates the two biggest real estate technology gatherings of the year. Celebrating its 20th year, Inman Connect is where innovation is celebrated, relationships are forged and deals are made.
You're invited to join us and the leaders of real estate at Inman Connect August 2 – 5 in San Francisco with a special rate. Click here to register and enter promo code DPR for $200 off.
Here are the top three reasons we wouldn't miss Inman Connect:
Startup Alley: Every company started somewhere! We appreciate the opportunity to talk to new startups who are solving problems, improving customer experiences and developing new technologies. In 2009, we were one of those start ups—one of 16 in the first ever Startup Alley. The event inspired many strategic decisions for our company. Check out our list of partners today!
Awards: We were thrilled to be named the 2011 Most Innovative Technology. We wouldn't miss getting to know the up and coming people, businesses and technologies that are improving the way we do real estate.
Sessions: We look forward to taking in sessions dedicated to discussing what's next for digital marketing, MLSs, data and agent success.
Learn more about Inman Connect. And secure your spot before tickets sell out. Use promo code DPR for $200 off.