Report
A Guide to Q2 2023 Homebuyer Assistance Program Trends
July 24, 2023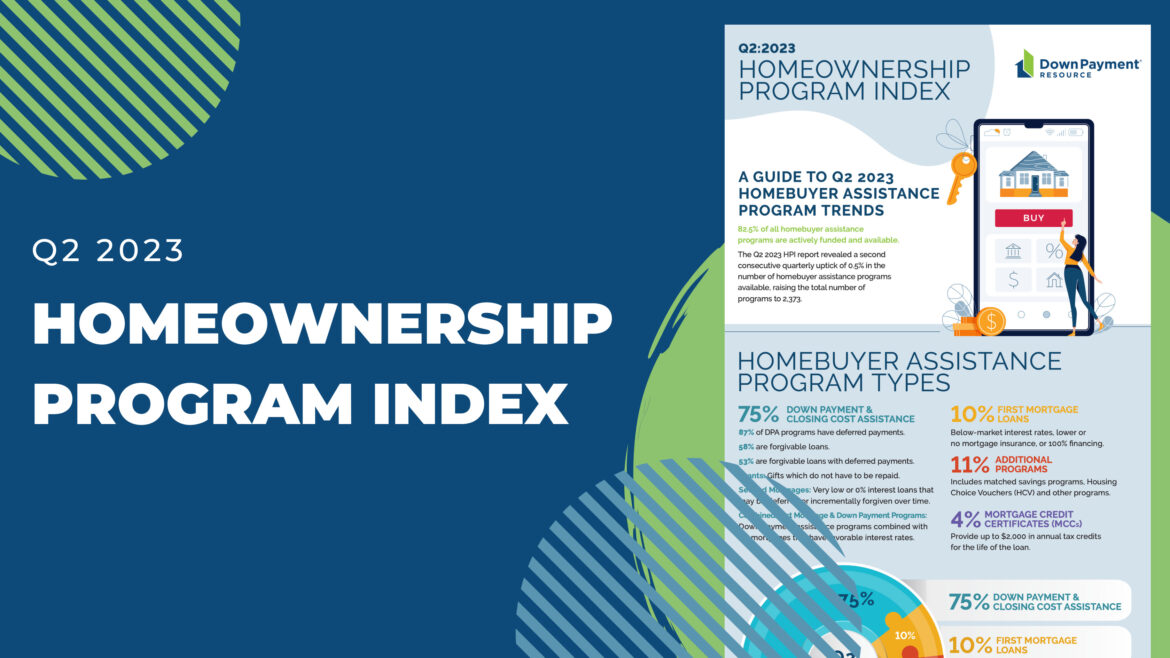 Four times a year, we release a Homeownership Program Index (HPI) report where we delve into the data collected from our DOWN PAYMENT RESOURCE® database to unveil significant developments and emerging patterns in homebuyer assistance programs across the United States.
In our Q2 2023 HPI report, we have uncovered that for the second consecutive quarter, there has been a 0.5% increase in the availability of homebuyer assistance programs aimed at helping individuals finance their dream homes. This brings the total number of programs to an impressive 2,373. Moreover, as of July 3, 2023, a substantial 82.5% of these programs continue to offer funds to eligible homebuyers.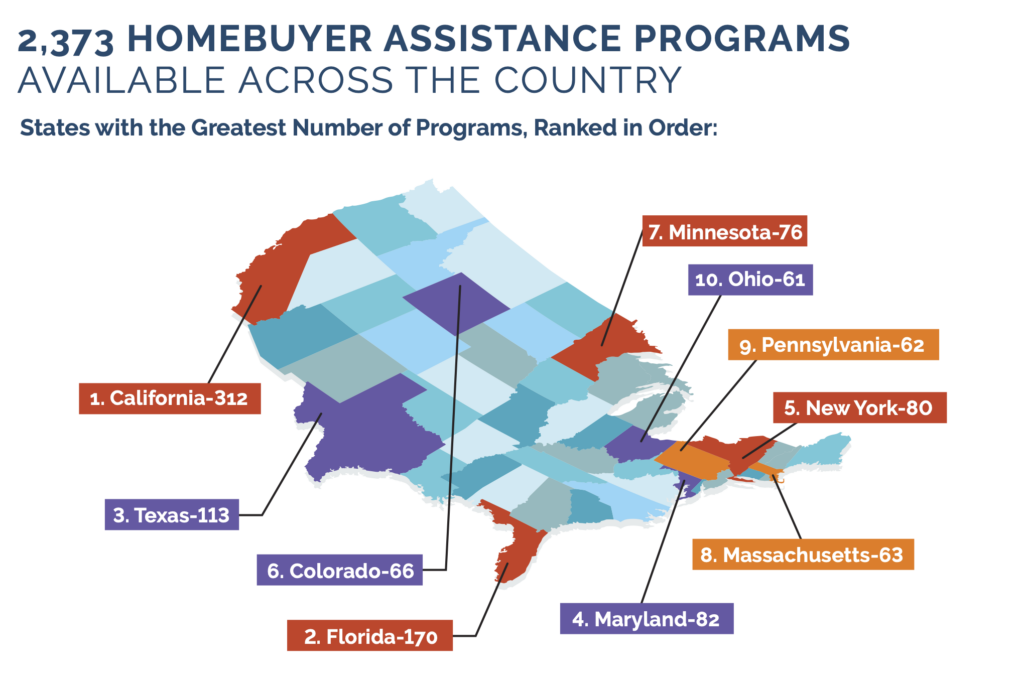 Breakdown of new programs
Here is a breakdown of the homebuyer assistance programs added last quarter:
By assistance type: Similar to last quarter, community seconds saw the largest growth, with 24 programs added. Four grants, four combined assistance programs, one deed program, seven BMR/resale programs and six MCCs were also among the programs added.
By region: There was a 1.18% increase in statewide programs, a 1.73% increase in programs supporting home purchases in defined locales and a 6.85% increase in nationwide and multi-state programs. Programs supporting homebuyers in New Mexico saw the largest percent growth of any state, increasing by 21.43%.
By funding source: Florida's State Housing Initiatives Partnership (SHIP) programs saw the largest cumulative growth overall with 17 programs added, a quarterly increase of 18.09%. Other funding sources that saw a notable increase were Native American Housing Assistance and Self Determination Act (NAHASDA) block grants, which increased by 4.3%, and assistance backed by the Federal Home Loan Banks (FHLB), which increased by 4.76%.
New program trends
Municipality administered programs: Municipalities support 42.2% of all programs, more than any other type of homebuyer assistance administrator.
The City of Madison's Home-Buy The American Dream (HBAD) program provides up to $35,000 in down payment and closing cost assistance in the form of a deferred, silent second mortgage. This means the loan does not have to be repaid until certain conditions are met, such as selling the home or refinancing the loan. Because HBAD is also a shared appreciation program, once the loan is due, borrowers must repay the same percentage of the home value at sale as DPA borrowed at the time of purchase. While the program doesn't limit home purchase price, borrower household income must be 80% HUD AMI or less.
Florida State Housing Initiatives Partnerships (SHIP) programs: The number of SHIP-funded programs increased by 18.09%, a dramatic increase over the last quarter.
Clay County SHIP Purchase Assistance Program provides people purchasing a home in Clay County, Fla. up to $15,000 in DPA in the form of a 30-year deferred, forgivable soft second. Provided all program conditions are met, borrowers do not have to repay the loan at the end of its term. Borrowing households may earn up to 140% of HUD AMI. Purchase price limits apply.
Continued incentivized program growth: There was a 4.75% increase in incentivized programs — which are geared toward public servants such as teachers and protectors, Native Americans, people with disabilities and veterans, among others.
The City of Canton Down Payment Assistance Program provides up to $15,000 of DPA to people buying homes in Canton, Ga. The program takes the form of a five-year deferred, forgivable soft second mortgage, which means that borrowers do not have to make payments and the loan will be fully forgiven at the end of its term provided that requirements, such as maintaining owner occupancy, are met. Borrowers may earn up to 80% of HUD AMI. Purchase price limits are $333,000 for existing homes and $361,000 for new construction homes.
Breakdown of all programs
Overall, the breakdown of homebuyer assistance programs available by type was unchanged from the previous quarter.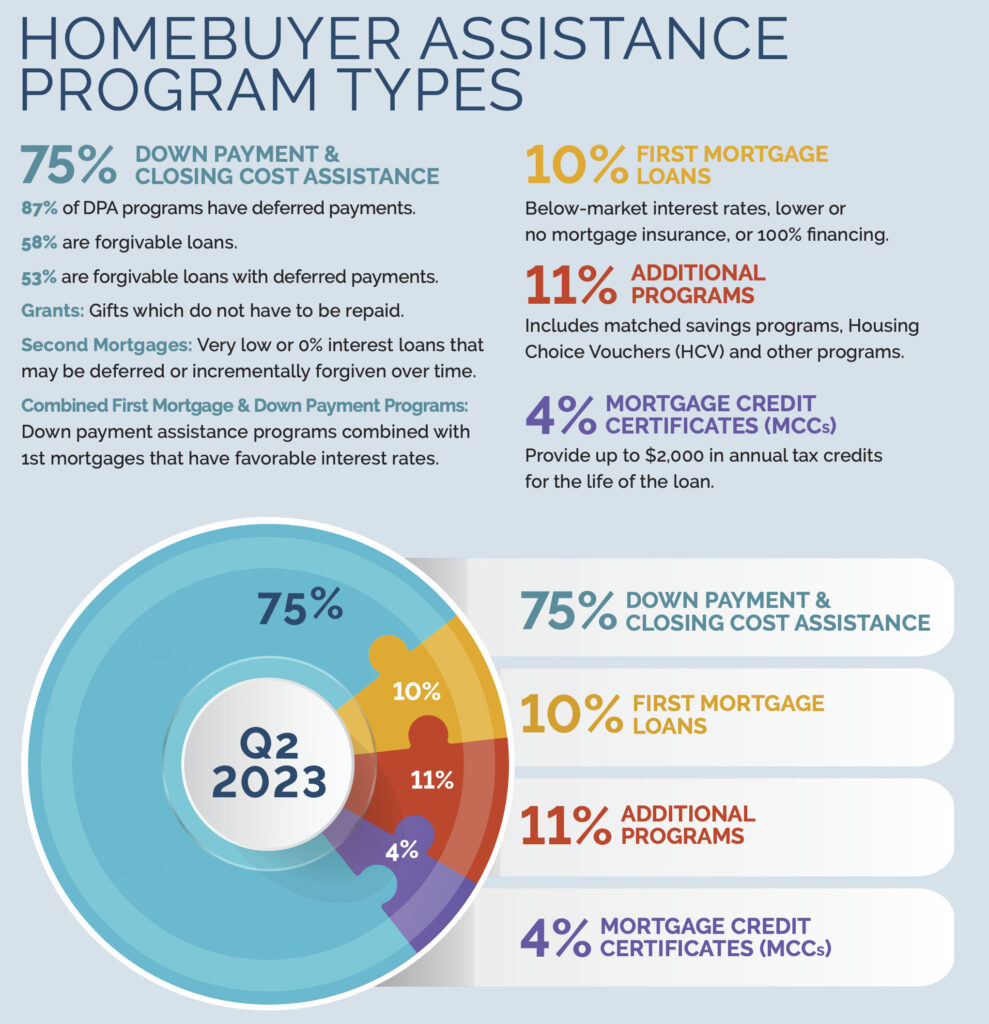 Of the 2,373 homebuyer assistance programs:

82.5% of all programs are currently funded.
8.8% of all programs are currently inactive.
3.1% of all programs have a waitlist for funding.
5.6% percent of all programs are temporarily suspended.

75.3% of programs in the database are for down payment or closing cost assistance.
10.0% of programs are first mortgages.
3.6% of programs are Mortgage Credit Certificates (MCCs).
A complete, state-by-state list of homebuyer assistance programs can be viewed here. Homebuyer assistance programs that waive the first-time homebuyer requirement for veterans and military personnel are tracked as two separate programs to report on dedicated assistance for military buyers.
You can also download the full infographic.
---
Down Payment Resource has crafted tools to help mortgage lenders, real estate agents and multiple listing services build relationships with homebuyers by connecting them with the homebuyer assistance they desire.
To explore the best option for your business, contact us.