Article
Down Payment Resource Employee Spotlight: Marcy Ash
February 28, 2022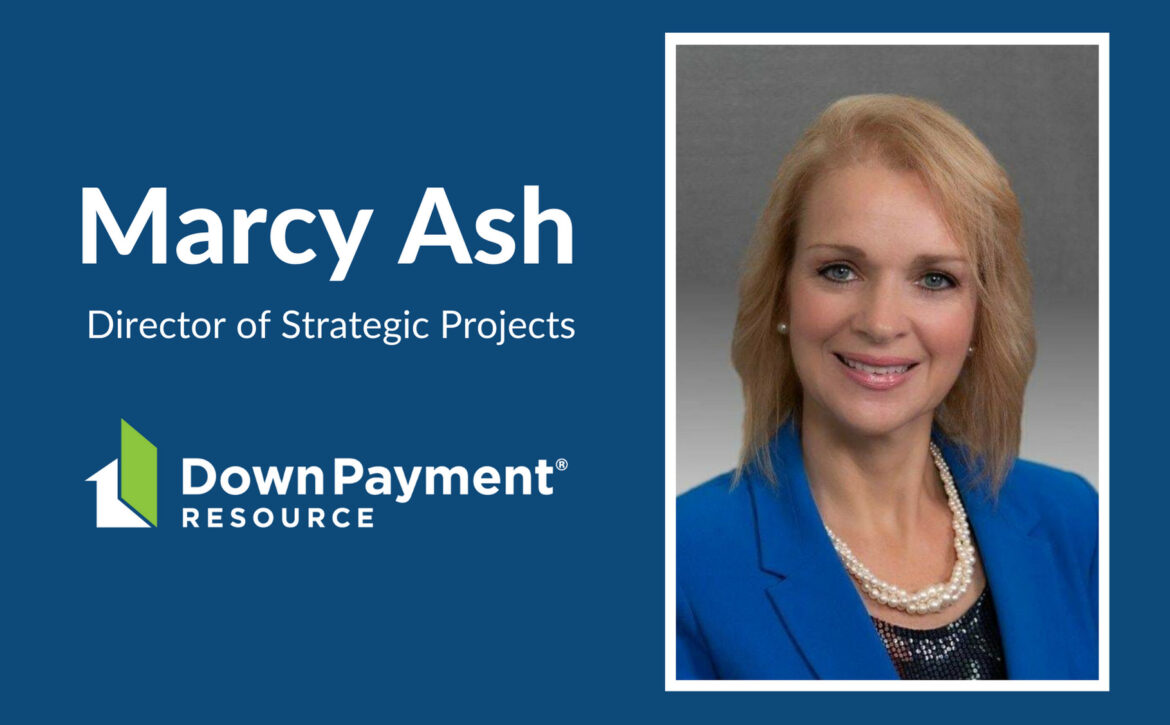 Marcy Ash has been drawn to the finance industry her whole life. As a young girl, she admired the confidence, kindness and joy exuded by the bank tellers at her local bank and aspired to be one when she grew up. It was in pursuit of this career path, combined with her own personal hardships and adversity, that Marcy found her true passion: helping low- to moderate-income (LMI) and first-time homebuyers achieve their dreams of homeownership.
Early in her career, Marcy got her foot in the door at Huntington Bank as a Lead Closer for the depository mortgage lender's third party lending channel. But instead of transitioning into a position as a bank teller, she discovered her passion for mortgage lending and was promoted to the bank's secondary marketing division. It was during her time in this role that Huntington Bank CEO, Steve Steinhour, issued a charge to organically produce and increase the origination of Community Reinvestment Act (CRA)-qualifying loans designed to expand homeownership accessibility for LMI borrowers and those in the LMI census tracts. Taking the challenge to heart, Marcy quickly noticed that only a few loan officers originated Housing Finance Agency (HFA), local housing authority or DPA loan products for their LMI customers. She knew something needed to change.
Building a Career in Affordable Lending
Affordable housing is a topic near and dear to Marcy's heart. As a full-time single parent to three small children when she first entered the mortgage industry, Marcy had personally experienced the financial burdens of housing insecurity, living paycheck-to-paycheck and missing meals so her children didn't go without. In an effort to offer her children a more stable living situation, Marcy moved in with her parents, where she and her children would remain for 10 years.
"While I was having my own personal and financial struggles, I recognized an opportunity for Huntington Bank to better serve LMI borrowers and first-time homebuyers with a more strategized, focused approach to down payment assistance (DPA) programs and products," explains Marcy. "Once I thought about the impact that affordable lending products and DPA programs could have on my own living situation, I knew they had the potential to do the same for others, and I just couldn't let the thought go."
Marcy began looking into paths Huntington Bank could take to expand its affordable lending product offerings. Right off the bat, she saw promise in the Ohio Housing Finance Agency (OHFA) state bond program and started doing more research. After approaching the handful of Huntington Bank loan officers (LOs) who were already familiar with OHFA, she learned that the reason most LOs weren't getting involved in the program simply came down to a lack of understanding of the product and process.
In an effort to help LOs feel more comfortable with navigating the intricacies of OHFA loan products, Marcy developed a business proposal to overhaul Huntington Bank's approach to affordable lending. Her plan of attack included a uniquely trained and dedicated team of colleagues who would specialize in affordable lending services. Marcy's goal for this initiative was not only to help streamline the bank's Home Lending division's internal processes, but also to provide an exceptional customer experience by equipping LOs with the knowledge to help more borrowers utilize DPA and affordable lending programs.
Marcy's proposal was a hit among Huntington Bank leadership, and began piloting its OHFA initiative, placing Marcy at the helm. Sales managers at Huntington Bank were particularly thrilled with the success of Marcy's initiative and asked her to expand the training to build even more specialized product teams.
Eventually, Marcy's dedication to expanding affordable lending offerings and strategies evolved into her leading Home Lending's affordable lending and HFA products teams, but she didn't stop there.
To address these misconceptions and illustrate the value of affordable lending products to Huntington Bank's real estate partners, Marcy became a state-certified continuing education instructor and facilitated affordable lending product training for real estate agents in Ohio, Michigan and Kentucky. These classes not only offered valuable education for real estate professionals, they also strengthened Home Lending's referral partnerships with real estate partners by showing them how affordable lending and DPA programs can create valuable lending opportunities that would be otherwise missed.
Within four years, she and the Home Lending team increased closed loan volume for LMI borrowers and communities by 1200% and assisted in the bank receiving "Outstanding" CRA ratings for the last several exam cycles.
A Personal Connection to Borrowers' Struggles
Marcy's passion for helping others wasn't the only driving factor in her career. As a single mother of three, Marcy's dedication to affordable lending stemmed from personal experience. When Marcy was promoted yet again at Huntington Bank, this time to product manager, she finally found herself in the financial position to purchase a home. In keeping with her dedication to affordable lending products, she used OHFA to make the purchase.
"Every promotion I would get, every raise I received, was one step closer to being able to provide a home for my own children. Then, finally, after 10 years of living with my parents, I was able to purchase my own home thanks to the Ohio Housing Finance Agency (OHFA)," says Marcy. "OHFA was the program that kickstarted the advancement of my career in the mortgage industry, so it was a beautiful irony that this program would also eventually help my family purchase a home of our own."
Although her new role as product manager focused on all loan product types, Marcy's heart remained in the affordable lending space. She still worked heavily with Huntington Bank's Community Development team, CRA loan officers and various advisory boards. She was also invited to speak about affordable lending and DPA programs at the Ohio Housing Conference multiple years in a row. In 2016, Marcy led Huntington Bank to partner with Detroit Home Mortgage, a collaborative grassroots program designed to address financial gaps in appraisals so borrowers can afford to buy, renovate, and live in one of the many available homes in the city of Detroit.
As her career and affordable lending expertise grew at Huntington Bank, Marcy became familiar with Down Payment Resource and the company's management of a wide range of DPA programs. Already an avid supporter of Down Payment Resource's mission, Marcy was thrilled when a position opened up giving her the opportunity to focus 100% of her time and attention on affordable lending and DPA programs.
"A lot of people in the industry take for granted the financial privilege that comes with being set in a mortgage lending job for life and tend to lose touch with the purpose of our job," says Marcy. "A mortgage loan is not just names and numbers in a system. It's a person's life. It's a family. It's a means of offering stability for children – physically, academically, emotionally and mentally. It increases an individual's self-esteem and affords the opportunity to produce generational wealth. We should look at homeownership like the blessing it is, and recognize the role DPA and affordable lending products and programs can play in helping others achieve their own blessing of becoming a homeowner."
Looking to the Future of Affordable Lending and Down Payment Assistance
Now in her new role as director of strategic projects at Down Payment Resource, Marcy looks forward to bolstering the company's strategic partnerships and relationships with lenders by illustrating how DPA programs can help lenders support prospective borrowers on the journey to becoming homeowners while achieving internal business goals.
As an industry professional and active mentor, Marcy believes that education, communication and relationships built on trust and respect are the best tools the mortgage industry can use to expand mortgage loan accessibility. Too often, first-time and LMI borrowers are unaware of the wide range of DPA programs available today. Marcy is dedicated to changing that by expanding Down Payment Resource's influence in the mortgage industry and empowering lenders with strategies to connect with historically-underserved borrowers.
"Mortgage professionals need to think outside the box, break through layers of distrust and engage on a more personal level with diverse borrowers to let them know about the many different products, programs and people who want to help them reach their financial and homeownership goals," explains Marcy. "By establishing trust through outreach, education and communication, we can ensure prospective borrowers have all of the tools and knowledge available to help them to make well-educated homebuying decisions."