Report
Homebuyer Assistance Offerings Increase for the Fifth Consecutive Quarter in Q4 2022
January 26, 2023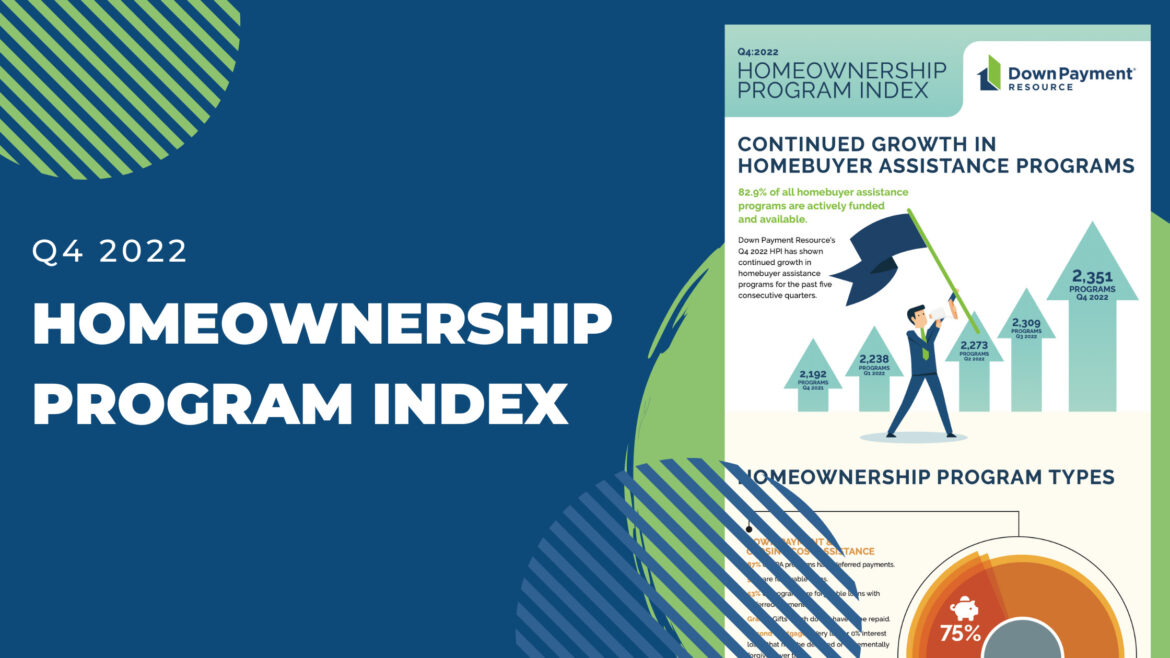 Down Payment Resource's Q4 2022 HPI report shows how homebuyer and down payment assistance flourished despite housing market downturns
Each quarter, we issue a Homeownership Program Index (HPI) report that examines data from our DOWN PAYMENT RESOURCE® database to uncover noteworthy changes and trends in U.S. homebuyer assistance programs.
Our Q4 2022 HPI report revealed a 1.8% uptick in the number of homebuyer assistance programs available to help people finance homes, raising the number of programs to 2,351, a net increase of 42 over the previous quarter. Of these programs, 82.9% had funds available for eligible homebuyers as of January 6, 2022.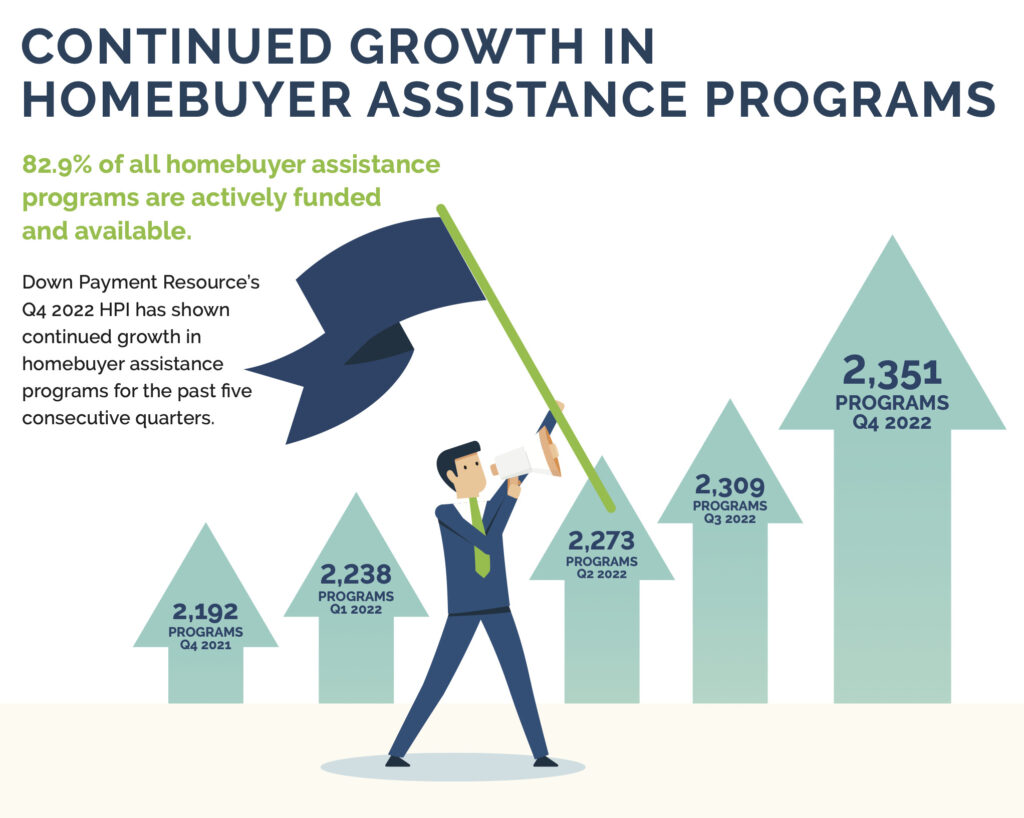 Breakdown of new programs
Here is a breakdown of the homebuyer assistance programs added last quarter:
By assistance type: Community seconds saw the largest growth with 27 programs added. Eight grants, three combined assistance programs, two deed restriction programs and one first mortgage program were also added.
By region: There was a 1.2% increase in statewide programs, a 1.7% increase in programs supporting home purchases in defined locales and a 7.2% increase in nationwide and multi-state programs. Programs supporting homebuyers in New England saw the largest percent growth of any region, increasing by 4.6%.
By funding source: For the second consecutive quarter, assistance backed by the U.S. Department of Housing and Urban Development's HOME Investment Partnerships Program (HOME) saw the largest cumulative growth overall with 12 HOME-funded programs added, a quarterly increase of 2.7%. Other funding sources that saw a notable increase in the number of programs available were bond-funded programs, which increased by 2.1%, Florida's State Housing Initiatives Partnership (SHIP) programs, which increased by 5.7%, and Community Development Block Grant (CDBG) programs, which increased by 2.7%. 
New program trends
Housing programs for manufactured homes: The number of programs that support manufactured housing grew to 669 in Q4 2022, a 5% increase over the previous quarter. 31% of all available homebuyer assistance programs now support manufactured housing, up from 28% in Q4 2021 and 26% in Q4 2020.
The Vermont Champlain Housing Trust's Manufactured Housing Down Payment (MHDP) Loan Program provides applicants with a deferred, zero-interest loan to help cover down payment and closing costs associated with the purchase of an Energy Star Rated manufactured home. MHDP loans are offered at 0% interest, and all payments are deferred until the property is sold, transferred, or refinanced. Participants must take an approved homebuyer education course to qualify for assistance.
Programs with income limits: There was a 5.5% increase in programs where applicants' income must fall below a specific threshold in order to qualify for assistance — growing from 1,961 in Q3 2022 to 1,990 in Q4 2022. Programs with income limits now make up 92.4% of all available programs.
The North Carolina Housing Coalition (NCHC) Homeownership Assistance Program (HAP) is a down payment and closing cost assistance program for low-to-moderate income (LMI) households that earn up to 120% of the area median income (AMI). The property must be a one or two unit primary residence located in one of the 16 counties defined by HUD as most impacted by Hurricanes Matthew and Florence. First-generation homebuyers whose parents do not currently own a home are eligible for up to $30,000 in down payment assistance and first-time homebuyers are eligible for up to $20,000. An additional 5% is provided toward closing costs.
Assistance for multifamily communities: 33 new programs that support multifamily homebuyers and builders were added in Q4 2022. Multifamily programs now make up 29.3% of all available assistance offerings, a 5.5% increase over Q3 2022. 
The Family Housing Fund is a community collaborative that provides affordable Building Equity construction loans to support the development and rehabilitation of two-to-four unit multifamily homes homes in the Minneapolis and Twin Cities metro regions of Minnesota. The program prioritizes Black, Indigenous and People of Color building developers and homebuyers with low-to-moderate incomes. It also offers forgivable down payment assistance for qualifying homebuyers who have completed owner-occupant training.
Breakdown of all programs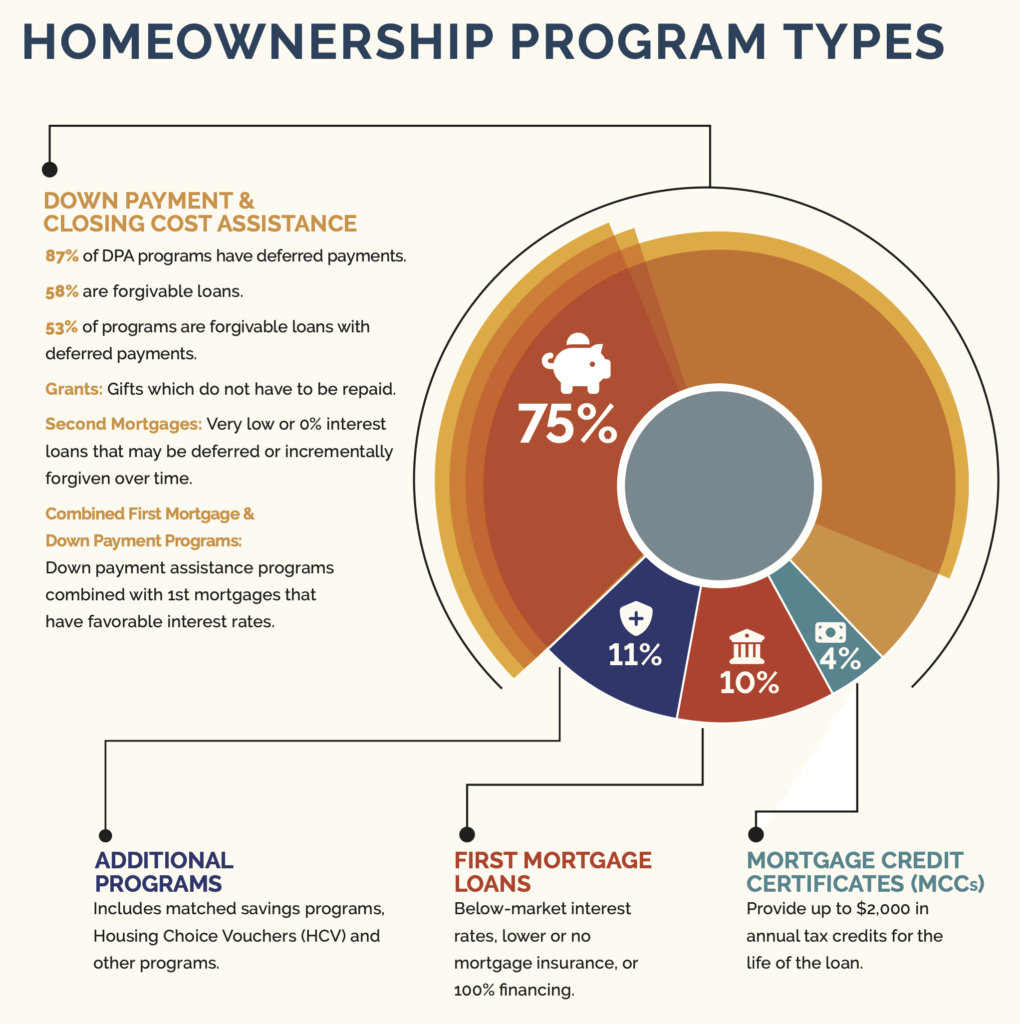 Overall, the breakdown of homebuyer assistance programs available by type was unchanged from the previous quarter.
75 percent of programs in the database are for down payment or closing cost assistance.

83 percent of all programs are currently funded.
10 percent of all programs are currently inactive.
3 percent of all programs have a waitlist for funding.
4 percent of all programs are temporarily suspended.

10.4% of programs are first mortgages.
4.4% of programs are Mortgage Credit Certificates (MCCs).
Other notable trends:
Several new incentivized homebuyer assistance programs were added in Q4 2022, including four programs for veterans and military service members, four for firefighters, three for educators and three for protectors. Programs for Native American homebuyers and surviving spouses were also added.
A complete, state-by-state list of homebuyer assistance programs can be viewed here. Homebuyer assistance programs that waive the first-time homebuyer requirement for veterans and military personnel are tracked as two separate programs to report on dedicated assistance for military buyers.
You can also download the full infographic.
In conclusion:
The number of U.S. homebuyer and down payment assistance programs grew steadily over each quarter of 2022, with 2,351 total programs now available. While there was a notable increase in the number of temporarily suspended programs in Q4 2022, these programs only make up 4.2% of all programs. With 83% of programs still being actively funded, homebuyer assistance remains a widely available option for homebuyers today. Mortgage and real estate professionals that want to boost revenue in this sluggish housing market can market programs like these to make homeownership more accessible and affordable to hesitant buyers in 2023.
Down Payment Resource has crafted tools to help mortgage lenders, real estate agents and multiple listing services build relationships with homebuyers by connecting them with the homebuyer assistance they desire.
To explore the best option for your business, contact us.