Report
More Homebuyer Assistance Programs Are Introduced as Mortgage Rates and Home Prices Swell
July 19, 2022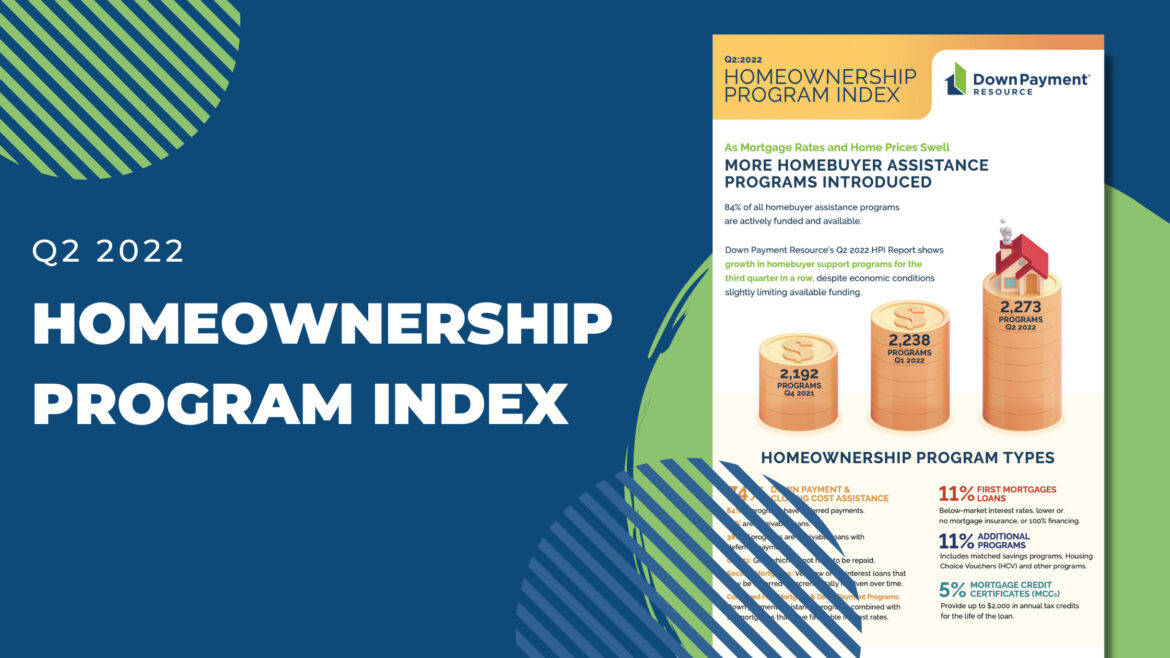 Down Payment Resource's Q2 2022 HPI report shows growth in homebuyer assistance programs for the third consecutive quarter despite economic conditions slightly limiting available funding
Each quarter, we issue a Homeownership Program Index (HPI) report that examines data from our DOWN PAYMENT RESOURCE® database to uncover noteworthy changes and trends in U.S. homebuyer assistance programs.
Our Q2 2022 HPI report revealed a 1.6% uptick in the number of homebuyer assistance programs available to help people finance homes, raising the number of programs to 2,273, a net increase of 35 over the previous quarter. Of these programs, 83.5% had funds available for eligible homebuyers as of July 5, 2022.
Breakdown of New Programs
Here is a breakdown of the homebuyer assistance programs added last quarter:
By assistance type: Four first mortgage programs, 11 combined assistance programs, five community seconds, six deed restriction programs and two Mortgage Credit Certificate (MCC) programs were added, among others.
By region: There was a 7.6% increase in nationwide programs, a 1% increase in programs supporting home purchases in defined locales and a 1.3% increase in statewide programs. Programs supporting the western U.S. saw the largest percent growth of any region, increasing by 2.8%.
By funding source: To-be-announced (TBA) programs saw the largest overall growth over the previous quarter with 12 TBA-funded programs added, a quarterly increase of 5.5%. Other funding sources that saw an increase in the number of programs available were bond programs, which increased by 2.2%, and State Housing Initiatives Partnership (SHIP) programs, which increased by 1.5%.
New Program Trends
Housing programs for veterans: There was a 4.5% increase in programs that waive the first-time homebuyer requirement for veterans — growing from 176 in Q1 2022 to 184 in Q2 2022.
The Florida Hometown Heroes Housing Program is available to public servants and frontline workers including active military and veterans, firefighters, educators, healthcare workers and childcare professionals. Eligible borrowers can receive lower than market mortgage rates in addition to down payment and closing cost assistance up to 5% of the first mortgage loan amount (maximum of $25,000) in the form of a 0%, non-amortizing, 30-year deferred second mortgage.
Program repayment features: Of the 1,542 DPA programs, which include community seconds, grants and combined assistance programs, 86.3% offer a deferred repayment option, 57.9% are completely forgivable and 51.7% are both deferred and forgivable.
The San Diego Housing Commission's Closing Cost Forgivable Loan offers first time homebuyers earning no more than 100 percent of San Diego's area median income (AMI) closing cost assistance of up to four percent of the purchase price, not to exceed $10,000. The assistance is forgiven at the end of six years as long as the property remains owner occupied and there are no further encumbrances.
Breakdown of All Programs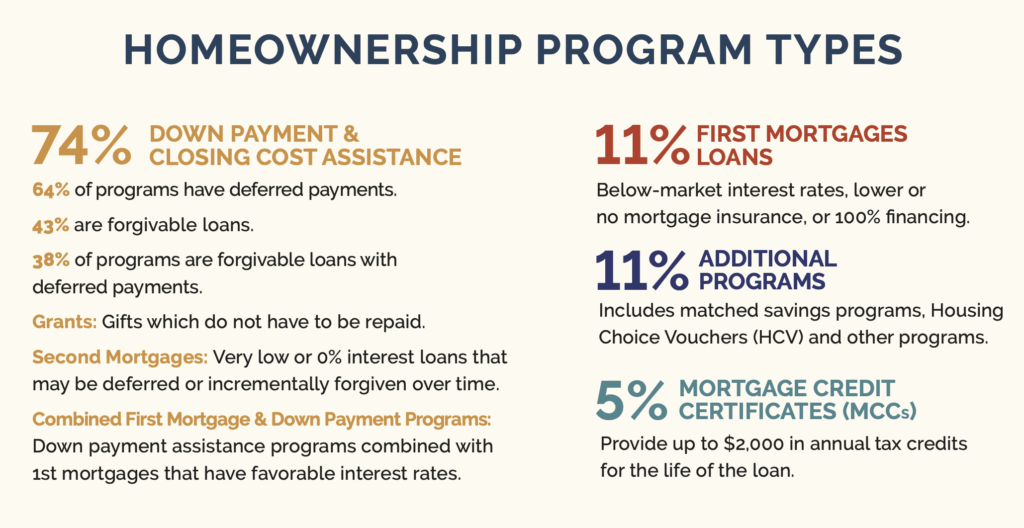 Overall, the breakdown of homebuyer assistance programs available by type was unchanged from the previous quarter.
84 percent of all programs are currently funded.
11 percent of all programs are currently inactive.
3 percent of all programs have a waitlist for funding.
2 percent of all programs are temporarily suspended.
73.8 percent of programs in the database are for down payment or closing cost assistance.
10.6% of programs are first mortgages.
4.6% of programs are Mortgage Credit Certificates (MCCs).
California leads the way in DPA programs, making up 15% of DPR's database.
Other Notable Trends:

Programs that support multi-family housing purchases increased by 4.9% in Q2 2022, bringing the total number of programs in this category up to 583, or 27.9% of all available programs.
The number of programs supporting manufactured housing grew by 31, a 5.2% increase over the previous quarter, bringing the total number of programs in this category up to 625. This marks a quarters-long trend in increased manufactured home acceptance. In Q4 2021, 27.9% of homebuyer assistance programs supported the purchase of manufactured housing. In Q1 2022 the number grew to 28.8% and in Q2 it increased again to 29.9%.
A complete, state-by-state list of homebuyer assistance programs can be viewed here.
In Conclusion:
The number of inactive and temporarily suspended homebuyer assistance programs grew in Q2 2022, but this minor decrease in available funding was offset by the 35 programs added in the same timeframe. With inflation reaching its highest point in 40 years and rising interest rates, expanding homeownership accessibility through down payment and closing cost assistance are important to serving homebuyers in these market conditions.
Down Payment Resource has crafted tools to help mortgage lenders, real estate agents and multiple listing services build relationships with homebuyers by connecting them with the homebuyer assistance they desire.
Contact us to explore the best option for your business.