Report
More Homebuyer Assistance Programs Introduced as Affordability Declines in Most U.S. Counties
April 18, 2022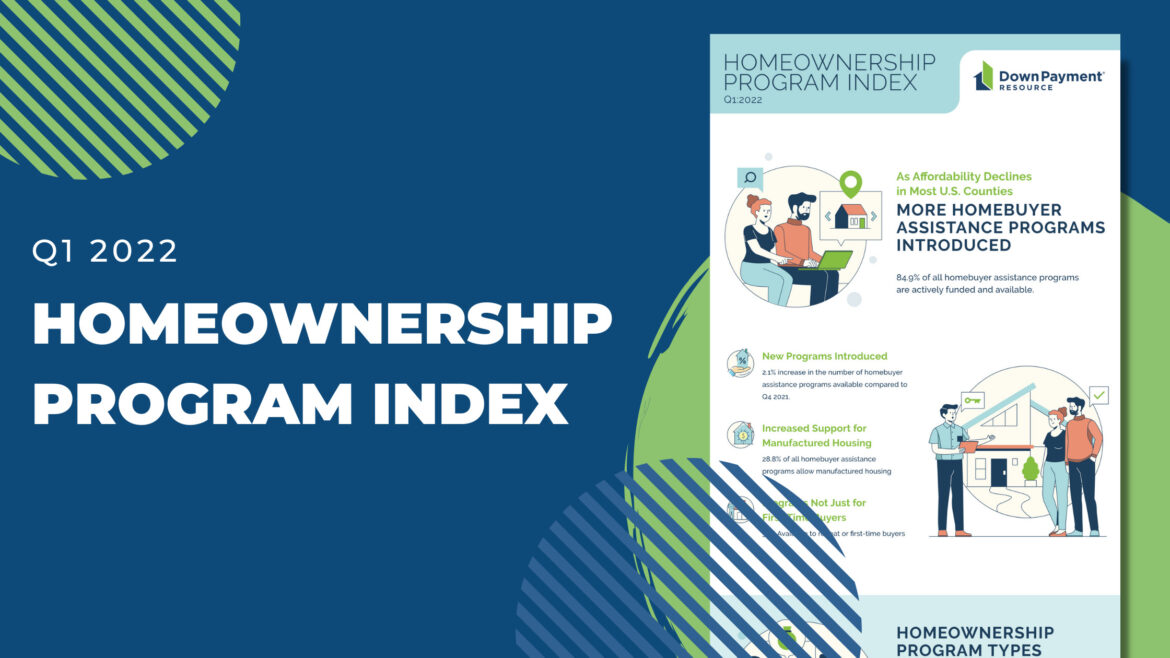 Q1 2022 HPI report reveals increase in homebuyer assistance programs available to support home purchases
Each quarter, we issue a Homeownership Program Index (HPI) report that examines data from our DOWN PAYMENT RESOURCE® database to uncover noteworthy changes and trends in U.S. homebuyer assistance programs.
Our Q1 2022 HPI report revealed a 2.1% uptick in the number of homebuyer assistance programs available to help people finance homes, bringing the total number of programs available to 2,238, a net increase of 46 programs over the previous quarter. Of these programs, 84.9% had funds available for eligible homebuyers as of April 1, 2022, a 1% increase.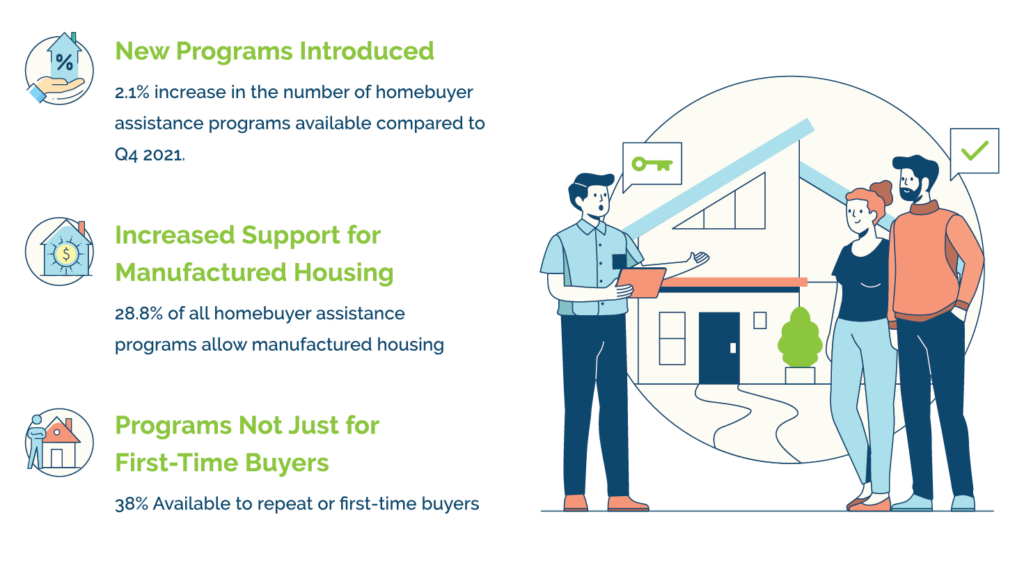 Breakdown of new programs
Here is a breakdown of the 46 homebuyer assistance programs added last quarter:
By assistance type: Two first mortgage programs, two combined assistance programs, 10 grants and 32 second mortgage programs were added.
By region: There was a 5.7% increase in nonprofit-sponsored programs, a 2.3% increase in programs supporting home purchases in defined locales and a 1.3% increase in statewide programs.
By funding source: State Housing Initiatives Partnership (SHIP) programs saw the largest percent growth over the previous quarter, increasing by 17.9%. Several other funding sources increased the number of programs available, with Community Development Block Programs (CDBG) increasing by 4.2%, HOME Investment Partnerships Programs (HOME) increasing by 3.8%, to-be-announced (TBA) programs increasing by 3.3% and bond programs increasing by 1.3%
Community hero programs: Six programs for public-sector and healthcare workers were added, including two programs for veterans, educators, protectors and firefighters, and four programs for healthcare workers.
New program trends
Manufactured housing programs: An additional 31 programs now allow manufactured housing, bringing the total of manufactured housing-eligible programs to 594.
The Blue Ridge Housing Network HOMEownership Down Payment Assistance Program is one of the many programs that opened eligibility to manufactured homes in Q1 2022. It offers those purchasing a home in the Northern Shenandoah Valley region of Virginia 10% of the sales price (up to $14,999) in down payment and closing cost assistance. The assistance comes in the form of a 0% interest, non-amortizing second mortgage loan, which means there are no monthly payments and the balance is forgiven at the end of a five-year term so long as owner-occupancy and other rules are complied with.
Multi-family housing programs: Programs that support multi-family housing purchases increased slightly (0.4%), bringing the total number of programs in this category up to 566.
RIHousing introduced the FirstGenHomeRI multi-family housing program in Q1 2022. Qualified, first-time homebuyers purchasing a 1-4 unit family home in select Rhode Island communities are eligible for up to $25,000 in down payment and closing cost assistance. The assistance comes in the form of a deferred second mortgage loan at 0% interest that is fully forgiven at the end of a 5-year term provided owner-occupancy is maintained.
Breakdown of all programs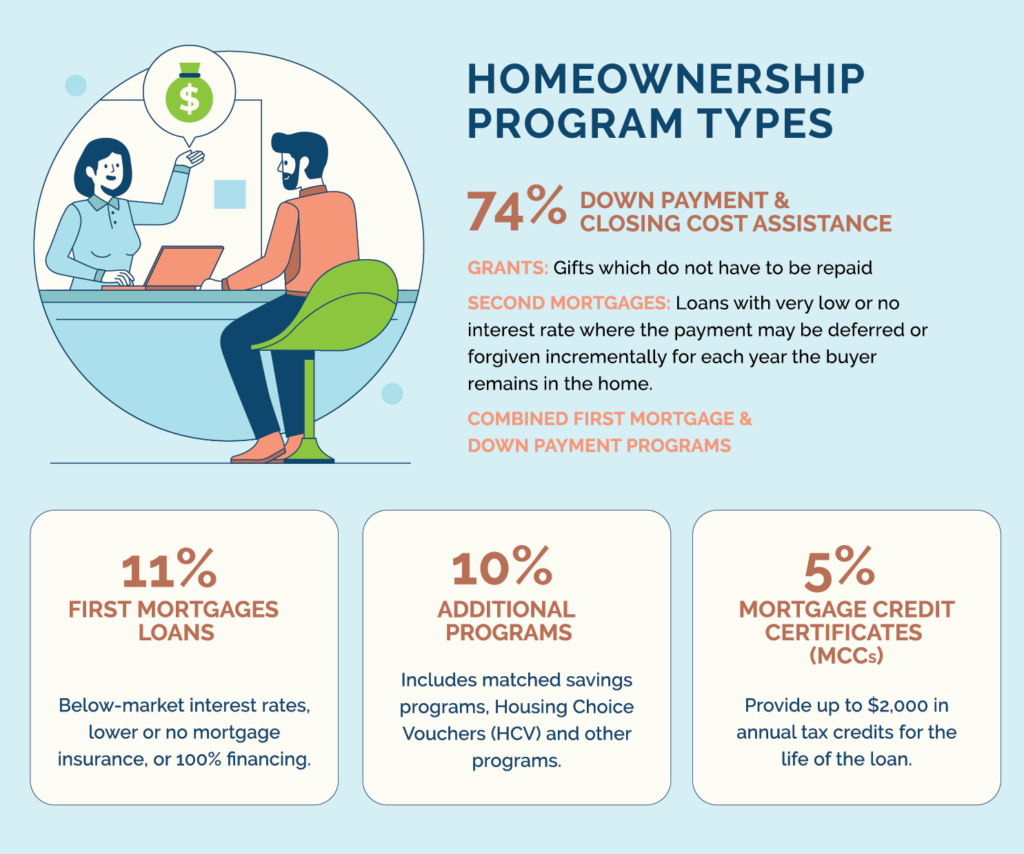 Overall, the breakdown of homebuyer assistance programs available by type was unchanged from the previous quarter.
74 percent of programs in the database are for down payment or closing cost assistance.

63 percent of all DPAs include payment deferral for some period of time.
43 percent of all DPAs are partially or fully forgivable.
38 percent of all DPAs are both deferred and forgivable.

10.6% of programs are first mortgages.
4.6% of programs are Mortgage Credit Certificates (MCCs).
Other notable trends:
It is a common misconception that homebuyer assistance is only available to first-time homebuyers, however, 38% of homebuyer assistance programs in Q1 2022 did not have a first-time homebuyer requirement.
A complete, state-by-state list of homebuyer assistance programs can be viewed here. You can also download the full infographic.
In conclusion:
Both the number of homebuyer assistance programs and the volume of available funding increased in Q1 2022, a trend we have observed for several consecutive quarters. With affordability at its lowest since 2008 and the availability of homebuyer assistance on the rise, homebuyers need real estate agents and mortgage lenders to connect them with programs that make homeownership more affordable.
Down Payment Resource has crafted tools to help mortgage lenders, individual loan officers and real estate agents as well as multiple listing services build relationships with homebuyers by connecting them with the homebuyer assistance they desire.
To explore the best option for your business, contact us.