Report
Q1 2023 Homebuyer Assistance Program Trends
April 25, 2023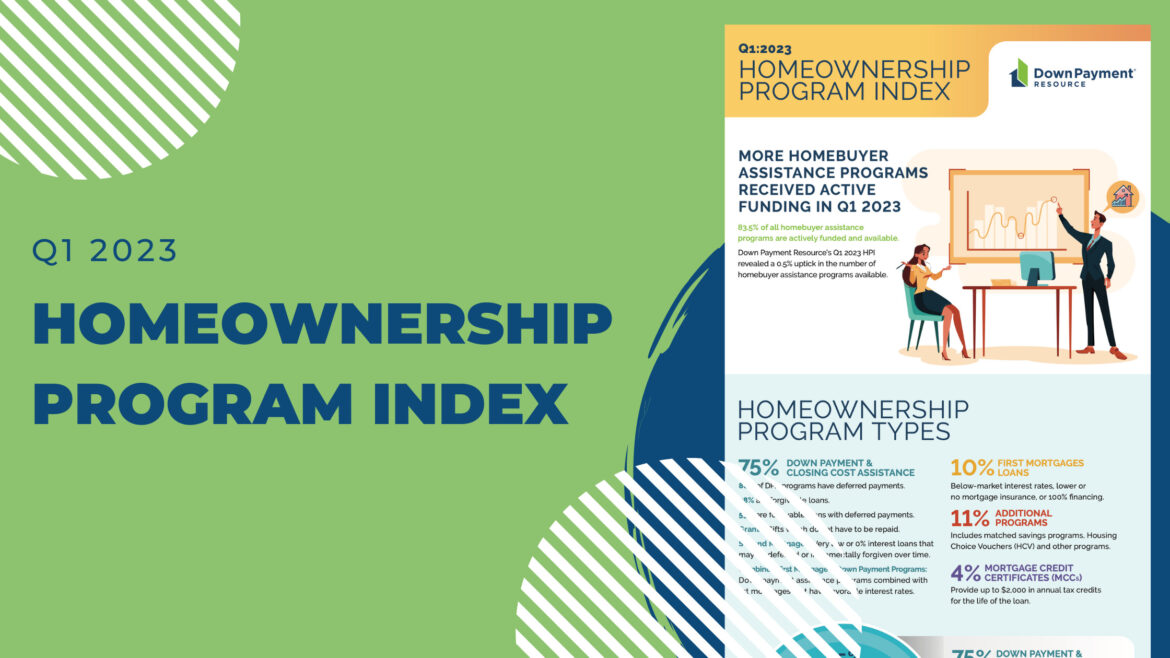 Each quarter, we issue a Homeownership Program Index (HPI) report that examines data from our DOWN PAYMENT RESOURCE® database to uncover noteworthy changes and trends in U.S. homebuyer assistance programs.
Our Q1 2023 HPI report revealed a 0.5% uptick in the number of homebuyer assistance programs available to help people finance homes, raising the number of programs to 2,362. Of these programs, 83.5% had funds available for eligible homebuyers as of April 7, 2023.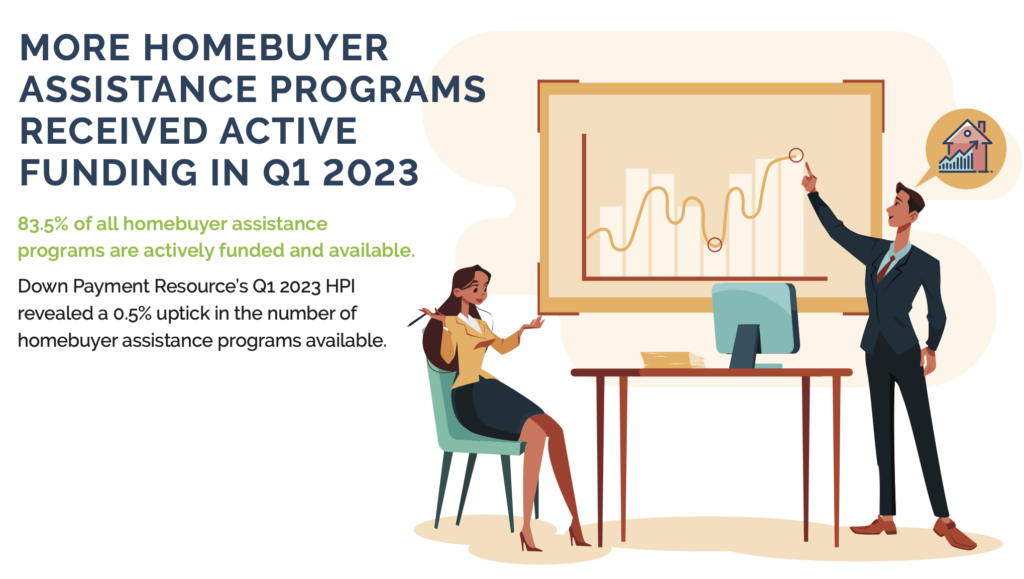 Breakdown of new programs
Here is a breakdown of the homebuyer assistance programs added last quarter:
By assistance type: Community seconds saw the largest growth, with seven programs added. Six grants, five combined assistance programs, three deed restriction programs, three first mortgage programs, three deed programs and one rehabilitation program were also added.
By region: There was a 2.4% increase in statewide programs, a 0.5% increase in programs supporting home purchases in defined locales and a 1.4% decrease in nationwide and multi-state programs. Programs supporting homebuyers in Pacific states saw the largest percent growth of any region, increasing by 1.5%.
By funding source: Community Development Block Grant (CDBG) programs saw the largest cumulative growth overall with 13 CDBG-funded programs added, a quarterly increase of 5.7%. Other funding sources that saw a notable increase in the number of programs available were to-be-announced (TBA) programs, which increased by 4.3%, Florida's State Housing Initiatives Partnership (SHIP) programs, which increased by 4.1%, and assistance backed by the California Department of Housing and Community Development (CalHome), which increased by 2.3%.
New program trends
Housing programs for repeat homebuyers: The number of programs that do not have a first-time homebuyer (FTHB) requirement grew to 861 in Q1 2023, a 2% increase over the previous quarter. 39.7% of all available homebuyer assistance programs now support repeat homebuyers, up from 38% in Q1 2022.
The City of Dallas' Anti-displacement Homebuyer Assistance Program (DHAP 10) provides down payment support to low- and moderate-income Dallas residents who have lived in city limits for at least 10 years. Assistance is available to FTHBs as well as repeat borrowers. Eligible individuals can receive up to $50,000 in assistance, and there is no purchase price limit. The total household income must fall between 50% to 120% of the area median income (AMI) to qualify for support. Participants are also required to complete homebuyer education prior to receiving DPA funds.
Programs with incentives: 11 incentivized programs were added in Q1 2023, a 3% increase over the previous quarter. There was a 4.7% increase in programs for veterans and military service members, a 5.2% increase in programs for protectors, a 5.8% increase in programs for firefighters and a 4.8% increase in the program for healthcare workers. Programs with incentives now make up 17.5% of all available programs.
The Holland Public Schools (HPS) Teachers Live Here Program provides up to $25,000 in forgivable funds over five years for eligible HPS educators. Applicants' total household income must be below $100,000 to qualify for assistance. The Teachers Live Here program operates on a cycle-based funding system, and while FTHB status is not required to qualify, they are given priority over current homeowners. DPA recipients must remain employed in the HPS district for at least five additional years after receiving support and must purchase a home within 15 miles of HPS' district boundaries. 
Assistance program repayment features: Of the 2,362 down payment assistance programs nationwide, which include community seconds, grants and combined assistance programs, 86.3% offer a deferred repayment option and 57.8% are completely forgivable. 856 DPA programs are both deferred and forgivable, up from 792 in Q1 2022 — an 8.1% year-over-year increase.
The Portland Housing Center's WELCOME HOME Gresham DPA Program offers up to $40,000 in DPA as an interest-free deferred loan, which is completely forgiven after the recipient has occupied their home for 15 years. Program eligibility is limited to those who meet the Portland Housing Center's definition of a FTHB, which includes those who have not owned a home in the past three years, single parents and displaced homemakers. Total household income must not exceed 80% AMI for applicants to qualify, and the purchase price of the home cannot exceed $437,000.
Breakdown of all programs
Overall, the breakdown of homebuyer assistance programs available by type was unchanged from the previous quarter.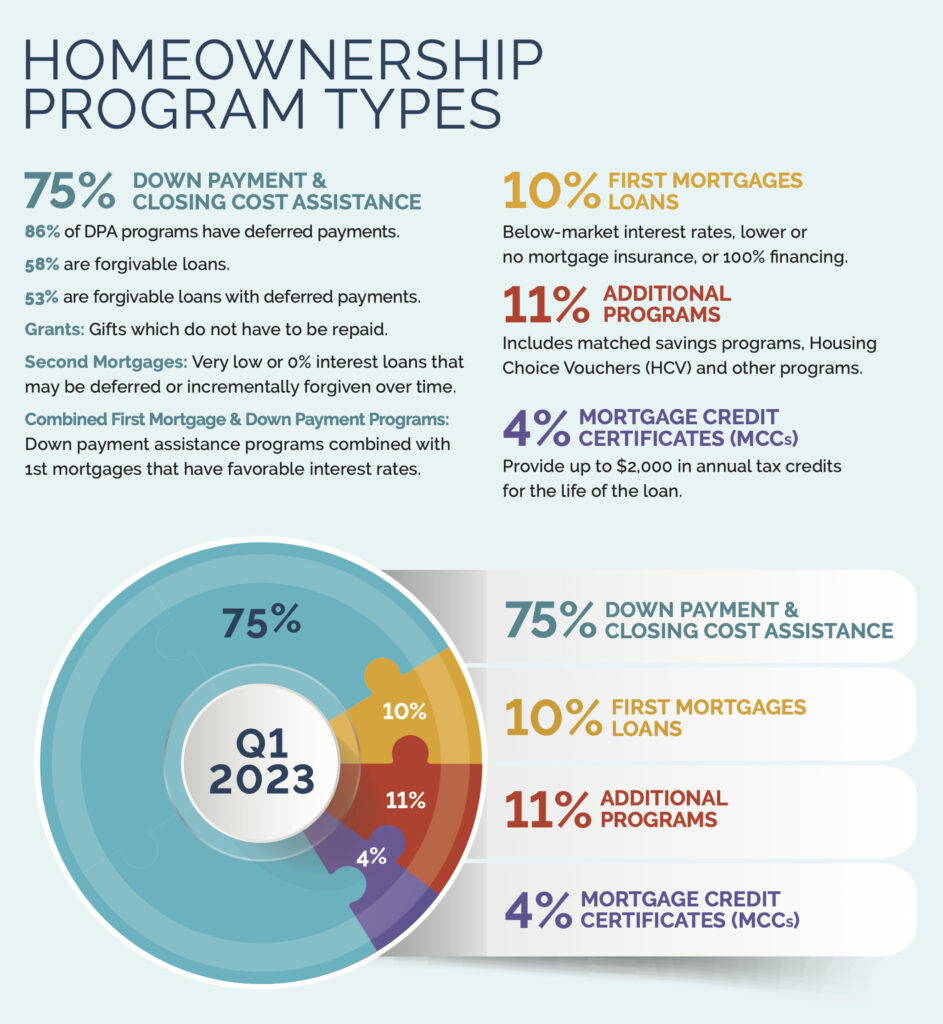 75 percent of programs in the database are for down payment or closing cost assistance.

84 percent of all programs are currently funded.
9 percent of all programs are currently inactive.
3 percent of all programs have a waitlist for funding.
5 percent of all programs are temporarily suspended.

10.5% of programs are first mortgages.
3.9% of programs are Mortgage Credit Certificates (MCCs).
Other notable trends:
The share of programs receiving active funding grew to 83.5% in Q1 2023, up from 82.9% in the previous quarter. At the same time, the number of inactive programs fell by 26 to 9.1%. While there was a slight uptick in temporarily suspended and waitlisted programs, the overall number of programs being funded has continued to grow steadily for more than a year.
A complete, state-by-state list of homebuyer assistance programs can be viewed here. Homebuyer assistance programs that waive the first-time homebuyer requirement for veterans and military personnel are tracked as two separate programs to report on dedicated assistance for military buyers.
You can also download the full infographic.
In conclusion:
The number of U.S. homebuyer and down payment assistance programs continued to grow in the first quarter of 2023, with 2,362 total programs now available. As the housing market continues its slow recovery in 2023, mortgage and real estate professionals should educate themselves and their clients about affordability programs. By illustrating the role homebuyer assistance can play in each prospective homebuyers' wealth-building journey, housing industry players can grow their business while also expanding housing accessibility for the traditionally underserved.
Down Payment Resource has crafted tools to help mortgage lenders, real estate agents and multiple listing services build relationships with homebuyers by connecting them with the homebuyer assistance they desire.
To explore the best option for your business, contact us.