Report
The Down Payment Resource Q3 2023 Homeownership Program Index Report
November 8, 2023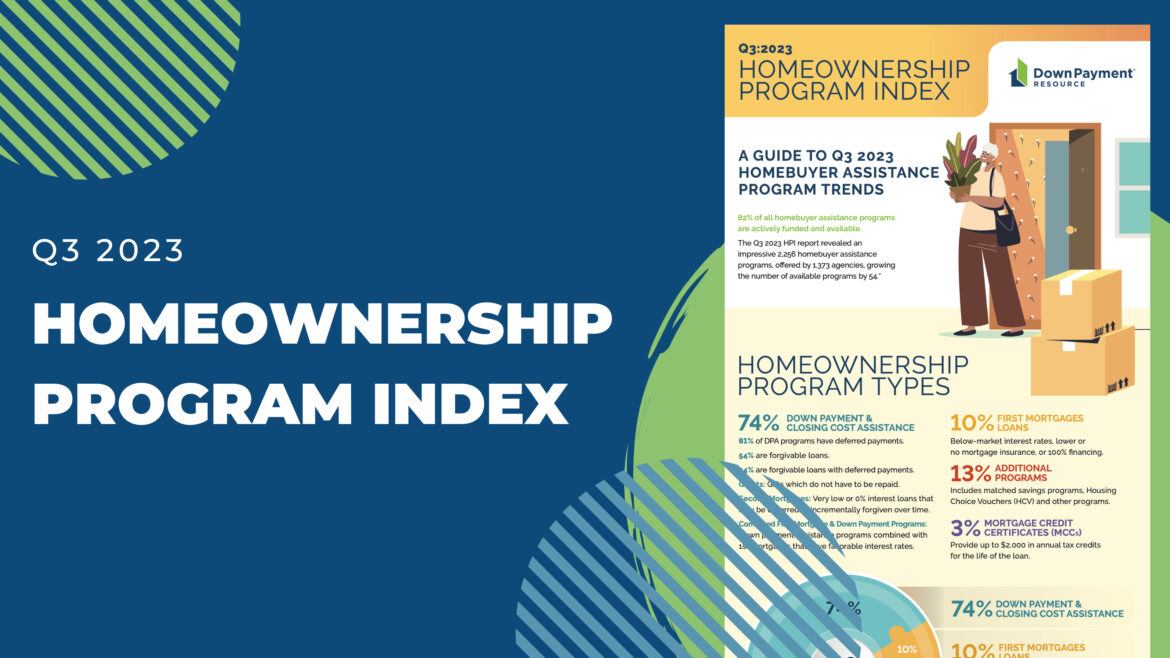 Four times a year, we release a Homeownership Program Index (HPI) report where we delve into the data collected from our DOWN PAYMENT RESOURCE® database to unveil significant developments and emerging patterns in homebuyer assistance programs across the United States.
While Q3 2023 was marked by interest rates topping 20-year highs, our data revealed a bastion of hope in homebuyer assistance programs. Program administrators responded swiftly to the mounting home affordability crisis by rapidly rolling out new programs as well as funding buydowns and other monthly payment reduction strategies.
Fifty new agencies began offering homebuyer assistance programs last quarter, raising the number of agencies providing support for aspiring homeowners to 1,373. Moreover, the number of programs increased by 54, raising the total number of programs offered to 2,256*. As of October 25, 2023, a substantial 82% of these programs had funding for eligible homebuyers.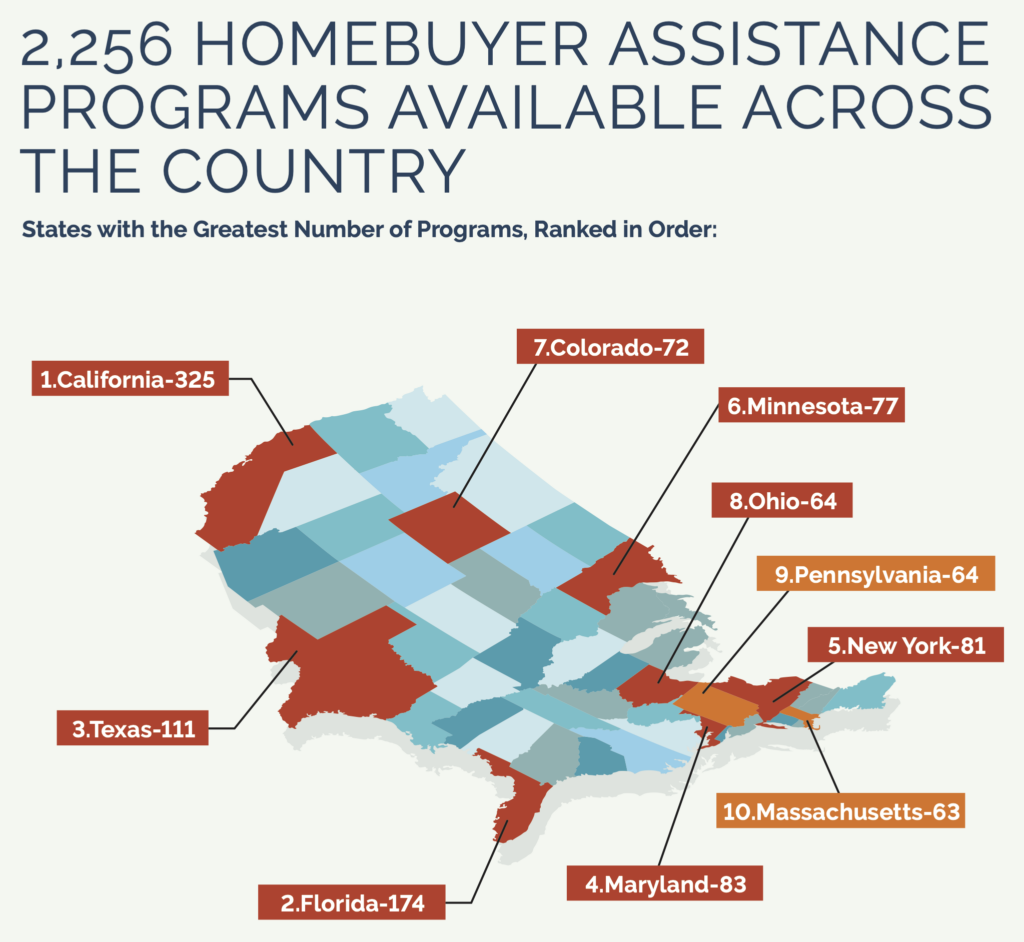 Program Trends
295 programs allow funds to be used for buydowns to lower mortgage rates. Of them:

253 programs allow for a permanent rate buydown
66 programs allow for a temporary rate buydown

53 programs allow for 1-0 buydowns
58 allow for 2-1 buydowns
55 allow for 3-2-1 buydowns
Tenfold's York Homebuyer Assistance Program offers up to $10,000 in down payment assistance (DPA) to first-time homebuyers purchasing homes in York County and York, Penn. The assistance comes as a 0% interest, silent second mortgage. The loan is fully forgiven over a five-year term on a prorated basis provided that all program conditions, such as owner-occupancy, are met. A minimum middle credit score of 620 is required, and recipients must take a HUD-approved homebuyer education course before entering a sales agreement. Household income and home price limits apply.
Hundreds of programs allow funds to be used to cover certain loan and MI fees:

224 programs can be used to pay the upfront mortgage insurance premium (UFMIP) on FHA loans, the funding fee on VA loans and guarantee fees on these types of loans.
71 programs allow MI offsets so the homebuyer can reduce MI premiums upfront.
241 programs can be used to pay the MI premium.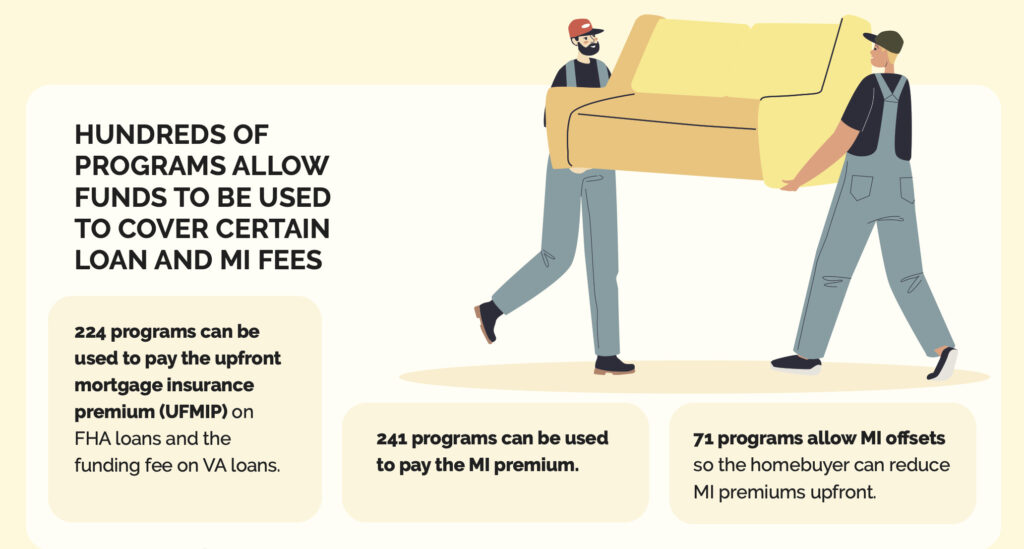 The Broward County Homebuyer Purchase Assistance Program provides up to $80,000 in purchase assistance for people buying homes in Broward County, Florida. The assistance takes the form of a forgivable second mortgage loan that is deferred at 0% interest for 15 years, provided all program requirements are met. Eligible homebuyers can make up to 80% of HUD AMI and use the funds to buy homes up to $568,557.
Support for Native American homebuyers: 43 homebuyer assistance programs in 14 states are specifically designed to support Native Americans. While Native Americans are eligible for any of the 2,200-plus U.S. homebuyer assistance programs, these programs were specifically developed to help Native American homebuyers with down payments and/or other home-buying costs.
The Cherokee Nation Mortgage Assistance Program provides up to $20,000 in DPA and credit coaching to members of federally recognized tribes, with priority given to citizens of the Cherokee Nation. The assistance takes the form of a 10-year forgivable loan and can be used to purchase an existing home or construct a new one. Borrowers who comply with additional requirements after close may be eligible for an additional $7,500 principal reduction.
50 new agencies began offering homebuyer assistance programs. Now, 1,373 agencies administer assistance programs to aspiring homeowners, a 3.78% increase over the previous quarter.
On October 16, 2023, Davis County, Utah, launched an inaugural homebuyer assistance program to help LMI families achieve their homeownership dreams. According to its website, Davis County began offering homebuyer assistance because "home prices in the last several years have dramatically appreciated across the state," which has created an "unprecedented challenge to homeownership."
Breakdown of New Programs
Here is a breakdown of the homebuyer assistance programs added last quarter by assistance type:
Below market value (BMR)/resale restriction programs saw the largest growth, with 24 programs added. Close behind, 16 second mortgage programs and 14 matched savings programs were added. Additionally, three combined assistance programs, two deed restriction, two housing choice vouchers, two rehab assistance and one other program was added.
Breakdown of All Programs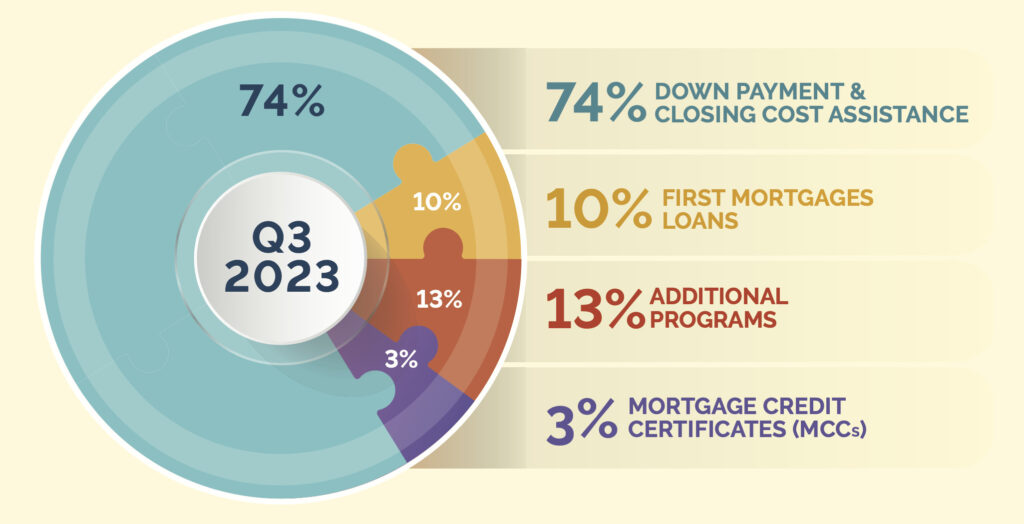 Overall, the breakdown of homebuyer assistance programs available by type was virtually the same as the previous quarter.
Of the 2,256 homebuyer assistance programs:

82% of programs are currently funded.
9% of programs are currently inactive.
4% of programs have a waitlist for funding.
6% of programs are temporarily suspended.

74% of programs in the database are for down payment or closing cost assistance.
10% of programs are first mortgages.
3% of programs are Mortgage Credit Certificates (MCCs)
13% are other program types
A complete, state-by-state list of homebuyer assistance programs can be viewed here. You can also download the full infographic.
---
Down Payment Resource has crafted tools to help mortgage lenders, real estate agents and multiple listing services build relationships with homebuyers by connecting them with the homebuyer assistance they desire.
To explore the best option for your business, contact us.
*On October 25, 2023, DPR updated the way it classifies certain homebuyer assistance programs that are available to the general public but also offer expanded benefits to veterans and military personnel. As a result of the update, DPR's total count of U.S. homebuyer assistance programs was adjusted downward; however, its breakdowns by region, assistance type and funding source remained the same. This change reflects an evolution of DPR's reporting methodology, not a reduction in the overall availability of homebuyer assistance. DPR normalized last quarter's data using its new counting methodology before calculating quarter-over-quarter trends.