Article
7 Markets With the Greatest Potential Impact of Down Payment Assistance
February 11, 2019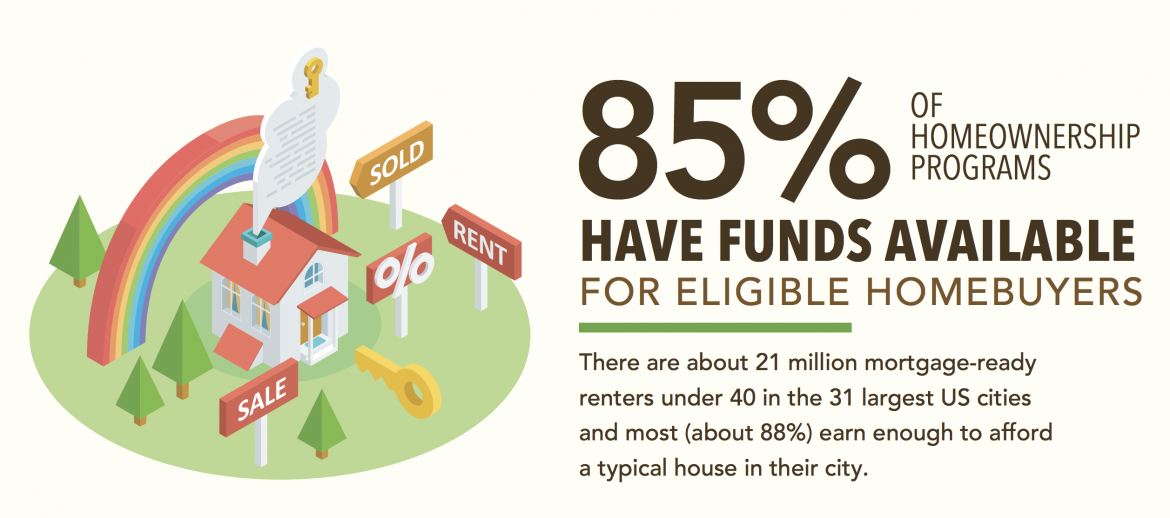 Mortgage Ready Buyers May Benefit from Down Payment Help
Homeownership Program Index analyzes 7 markets with the greatest potential impact of down payment assistance
The Down Payment Resource Third and Fourth Quarter 2018 Homeownership Program Index (HPI) reports the number of total programs decreased to 2,524, down just three programs from the second quarter. More than 85 percent (85.8%) of programs currently have funds available for eligible homebuyers, down one percent from second quarter.
Down Payment Resource (DPR) communicates with 1,313 program administrators to track and update the country's wide range of homeownership programs, including down payment and closing cost programs, Mortgage Credit Certificates, affordable first mortgages and more.
HPI key facts
39% of homeownership programs do not have a first-time homebuyer requirement and are available for eligible repeat homebuyers. (First-time homebuyer is defined by HUD as someone who has not owned a home in three years.)
74% of programs are available in a specific local area, such as a city, county or neighborhood. 26% of programs are available statewide through state housing finance agencies.
20% of programs allow buyers to purchase a multi-family property as long as the buyer occupies one of the units.
Nearly 8% (7.9%) of programs are available for community service workers, including educators, police officers, firefighters and healthcare workers.
More than 6% (6.4%) of programs have benefits for veterans, members of the military and surviving spouses. These programs can also be layered with zero down payment VA loans.
70% of programs in the database are down payment or closing cost assistance. 9% of programs are first mortgages and 8% of programs are Mortgage Credit Certificates (MCCs).
States with the greatest number of down payment programs remained consistent —California, Florida and Texas are the top three. View a complete list of state-by-state program data.
Mortgage-ready buyers can benefit
According to the updated and expanded Urban Institute Barriers to Accessing Homeownership report, commissioned by Down Payment Resource and Freddie Mac, there are about 21 million mortgage-ready renters under 40 in the 31 largest US cities. In addition, most (about 88%) of the mortgage-ready millennials in the US earn enough to afford a typical house in their city.
"We now know there are millions of buyers with the income and credit necessary to qualify to buy a home. The biggest question is: do they know it?" said Rob Chrane, CEO of Down Payment Resource. "Unfortunately, many renters don't investigate homeownership simply because they don't believe it's an option. Yet, every community is served by some type of homeownership program."
According to the Barriers to Accessing Homeownership report, 36 percent of 2017 mortgages, across 31 of the largest U.S. cities, were eligible for down payment help. The HPI analyzed the impact down payment assistance could have on seven markets with the greatest percentage of 2017 purchase mortgage loans eligible for down payment help.
7 markets with the greatest potential impact of down payment assistance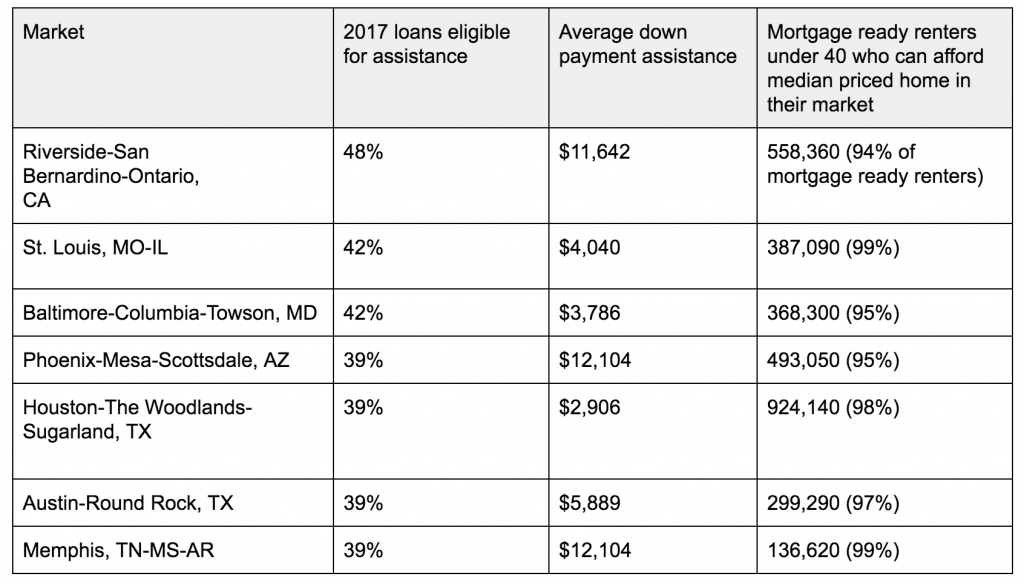 Program examples
Riverside-San Bernardino-Ontario, CA: The Riverside County Economic Development Agency First Time Home Buyer Program provides up to 20% of the home purchase price with a maximum of $75,000 towards down payment and closing costs. In addition, buyers can combine this program with a Mortgage Credit Certificate, providing a life-of-loan tax credit.
St. Louis, MO-IL: The St. Louis County 1st HOME Downpayment Loan provides a $3,000 zero-interest down payment loan to income-eligible first-time homebuyers in St. Louis County. The second mortgage loan will finance the down payment and eligible closing costs, and the loan is due when the owner sells the home.
Baltimore-Columbia-Towson, MD: The Maryland SmartBuy 2.0 program enables qualified borrowers with student debt to purchase a program-eligible home in Maryland, and receive financing through the Maryland Mortgage Program (MMP). SmartBuy financing provides up to 15% of the home purchase price for the borrower to pay off their outstanding student debt up to $40,000.
Phoenix-Mesa-Scottsdale, AZ: Buyers in Phoenix have access to a Arizona Department of Housing "Pathway to Purchase" Down Payment Assistance Program that provides eligible buyers with a  second mortgage equal to 10% of the purchase price. It's a zero percent interest, five–year forgivable second mortgage with no required monthly payments. The program, targeted to 26 zip codes in 12 Arizona cities, is an incentive to purchase in targeted housing markets that have been hardest-hit by foreclosures.
Houston-The Woodlands-Sugarland, TX: The City of Houston recently raised its Homebuyer Assistance Program (HAP) benefit to $30,000 in assistance for borrowers at or below 80 percent of the area median income.
Austin-Round Rock, TX: The City of Austin offers a forgivable, zero percent interest loan of up to $14,999 and a forgivable, zero percent interest loan with shared equity of up to $40,000 for eligible first-time homebuyers purchasing a home within the Austin city limits.
Memphis, TN-MS-AR: The City of Memphis offers a Citywide Down Payment Assistance Program (DPA) that provides up to 10% of the sales price with a maximum of $10,000 to help homebuyers with down payment and closing costs to complete the purchase of a home inside the city limits of Memphis.
View state-by-state data.
Download infographic.