Report
Homebuyer Assistance Programs Proliferate in Q3 as Median U.S. Down Payment Skyrockets
October 18, 2022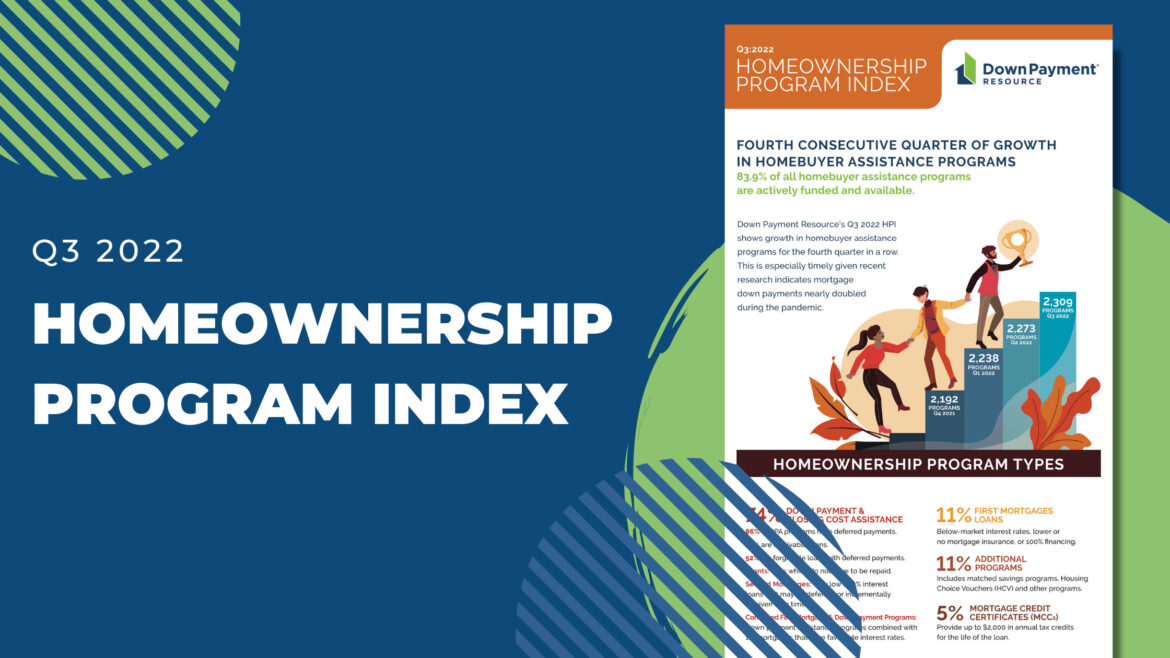 Down Payment Resource's Q3 2022 HPI report reveals a timely increase in affordable homeownership programs; meanwhile, the median U.S. down payment has reached nearly double pre-pandemic levels
Each quarter, we issue a Homeownership Program Index (HPI) report that examines data from our DOWN PAYMENT RESOURCE® database to uncover noteworthy changes and trends in U.S. homebuyer assistance programs.
Our Q3 2022 HPI report revealed a 1.6% uptick in the number of homebuyer assistance programs available to help people finance homes, raising the number of programs to 2,309, a net increase of 36 over the previous quarter. Of these programs, 83.9% had funds available for eligible homebuyers as of October 3, 2022.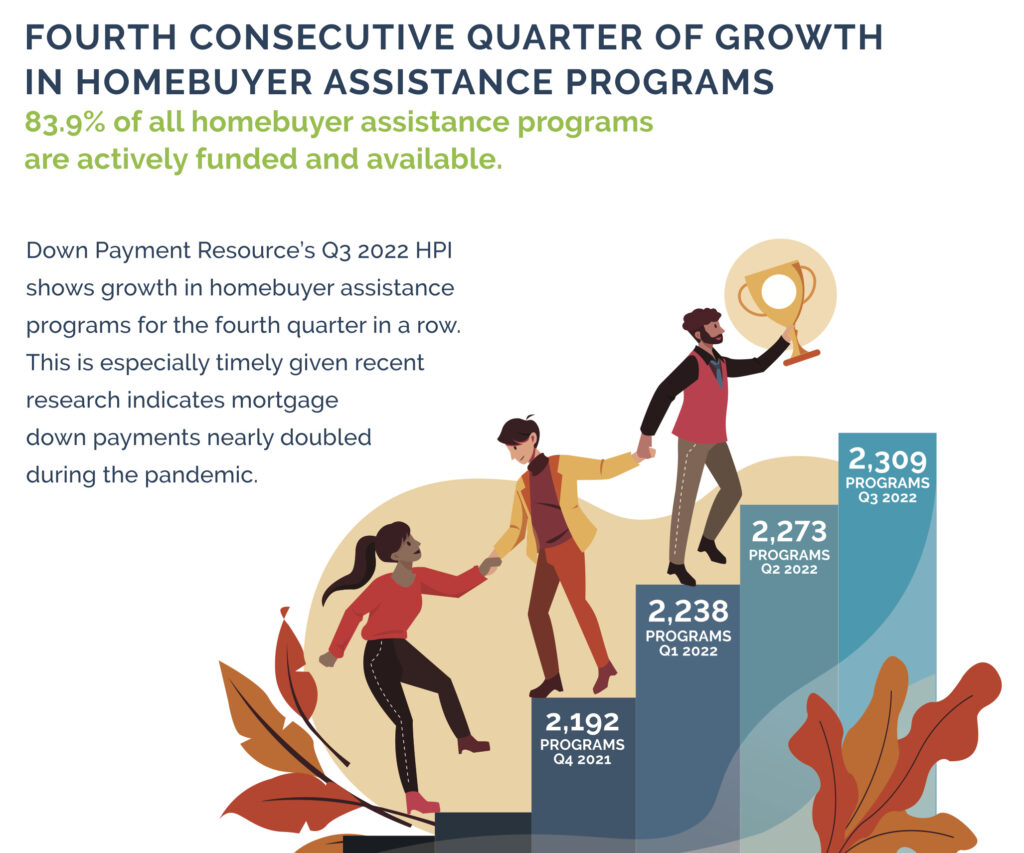 Breakdown of new programs
Here is a breakdown of the homebuyer assistance programs added last quarter:
By assistance type: Community seconds saw the largest growth with 24 programs added. Three grants, three below market rate (BMR) resale programs, two combined assistance programs and one first mortgage program were also added.
By region: There was a 2.9% increase in statewide programs, a 1.6% increase in programs supporting home purchases in defined locales and a 2.8% decrease in nationwide programs. Programs supporting the southern U.S. saw the largest percent growth of any region, increasing by 2.8%.
By funding source: Assistance backed by the U.S. Department of Housing and Urban Development's HOME Investment Partnerships Program (HOME) saw the largest cumulative growth overall with five HOME-funded programs added, a quarterly increase of 1.2%. Other funding sources that saw an increase in the number of programs available were Florida's State Housing Initiatives Partnership (SHIP) programs, which increased by 4.5%, and Community Development Block Grant (CDBG) programs, which increased by 0.4%.
New program trends
Housing programs for educators: There was a 16.4% increase in programs that offer unique benefits for educators — growing from 61 in Q2 2022 to 71 in Q3 2022.
The Teacher Next Door Program is available to all U.S. public and private school teachers, college and university professors and non-instructional school personnel. Eligible borrowers can receive up to $10,681 in down payment assistance toward any home on the market. The program also waives all up-front fees and offers participants preferred mortgage rates, a $545 appraisal credit at closing and grants up to $8,000 in some areas.
Programs available to repeat homebuyers: Around two out of five (39.1%) programs do not have a first-time homebuyer requirement and are available for eligible repeat homebuyers. 22 programs that accept repeat buyers were added in Q3 2022, a 2.7% increase over the previous quarter.
The Home At Last program helps low- and moderate-income homebuyers buy a home in the state of Nevada. Qualified first-time and repeat homebuyers receive up to 4% assistance for a down payment and closing costs and a loan with a competitive interest rate. Eligible borrowers must have a minimum FICO credit score of 640, a debt-to-income ratio up to 50% and an annual income no greater than $150,000.
Breakdown of all programs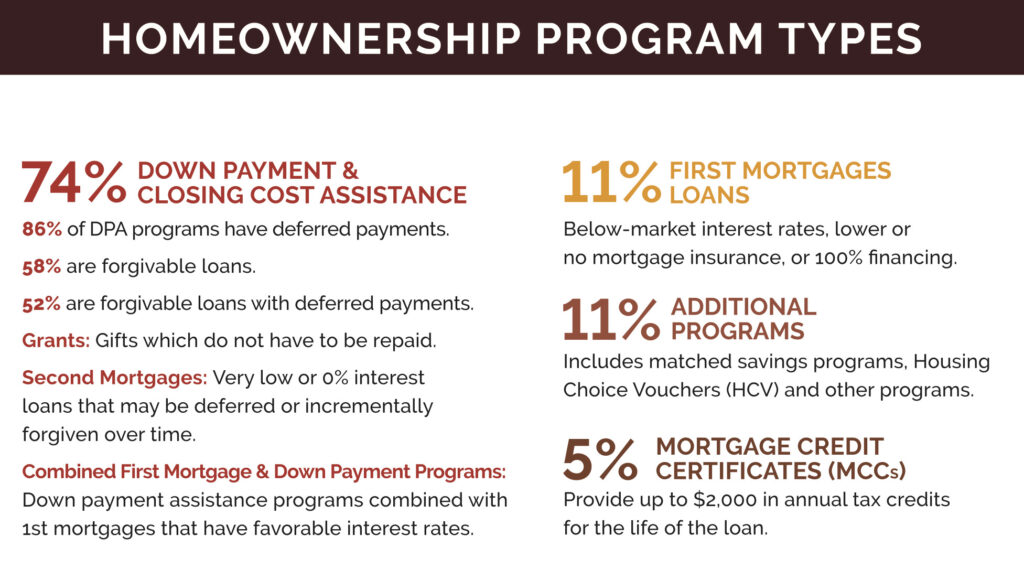 Overall, the breakdown of homebuyer assistance programs available by type was unchanged from the previous quarter.
74 percent of programs in the database are for down payment or closing cost assistance.

84 percent of all programs are currently funded.
10 percent of all programs are currently inactive.
3 percent of all programs have a waitlist for funding.
3 percent of all programs are temporarily suspended.

10.5% of programs are first mortgages.
4.6% of programs are Mortgage Credit Certificates (MCCs).
Other notable trends:
Twelve programs supporting manufactured housing were added this quarter, bringing the total number of programs in this category up to 30% of homebuyer assistance programs that now allow manufactured housing as an eligible property type, up 1.9% from Q2 2022 and 7.2% from Q1 2022.
Homebuyer assistance programs that support multi-family housing purchases increased by 2.9% in Q3 2022, bringing the total number of programs in this category up to 600, or 28.3% of all available programs.
California, Florida and Texas remained the top three states with the greatest number of down payment and homebuyer assistance programs. Of the 10 states with the greatest number of homebuyer assistance programs, Maryland, Minnesota and Massachusetts saw quarterly increases in the number of programs offered over last quarter, and Virginia made the list with 57 programs.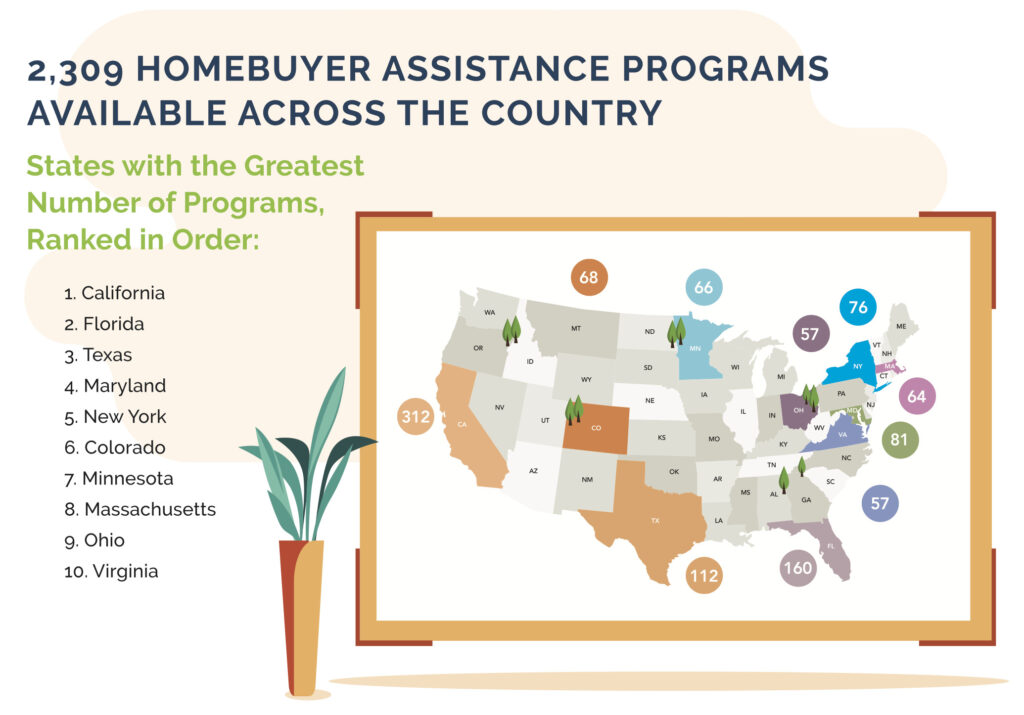 A complete, state-by-state list of homebuyer assistance programs can be viewed here. Homebuyer assistance programs that waive the first-time homebuyer requirement for veterans and military personnel are tracked as two separate programs to report on dedicated assistance for military buyers.
You can also download the full infographic.
In conclusion:
Both the number of homebuyer assistance programs and the volume of available funding increased in Q3 2022, reflecting an industry-wide push to mitigate economic conditions negatively impacting housing affordability. As mortgage rate hikes, home price appreciation, low housing inventory and economic uncertainty continue to limit homebuyer demand in Q4 2022, mortgage and real estate professionals must be prepared to educate prospective homebuyers about the variety of financial programs that can help make homeownership more accessible and affordable.
Down Payment Resource has crafted tools to help mortgage lenders, real estate agents and multiple listing services build relationships with homebuyers by connecting them with the homebuyer assistance they desire.
To explore the best option for your business, contact us.